Nonograms or griddlers are addictive types of logic puzzles where you use the number clues around the sides to color in boxes to reveal a picture. If you like doing sudoku puzzles, then you will love nonograms or griddlers!
I do enjoy sudoku puzzles, but I really love the reward of revealing a picture in a nonogram puzzle.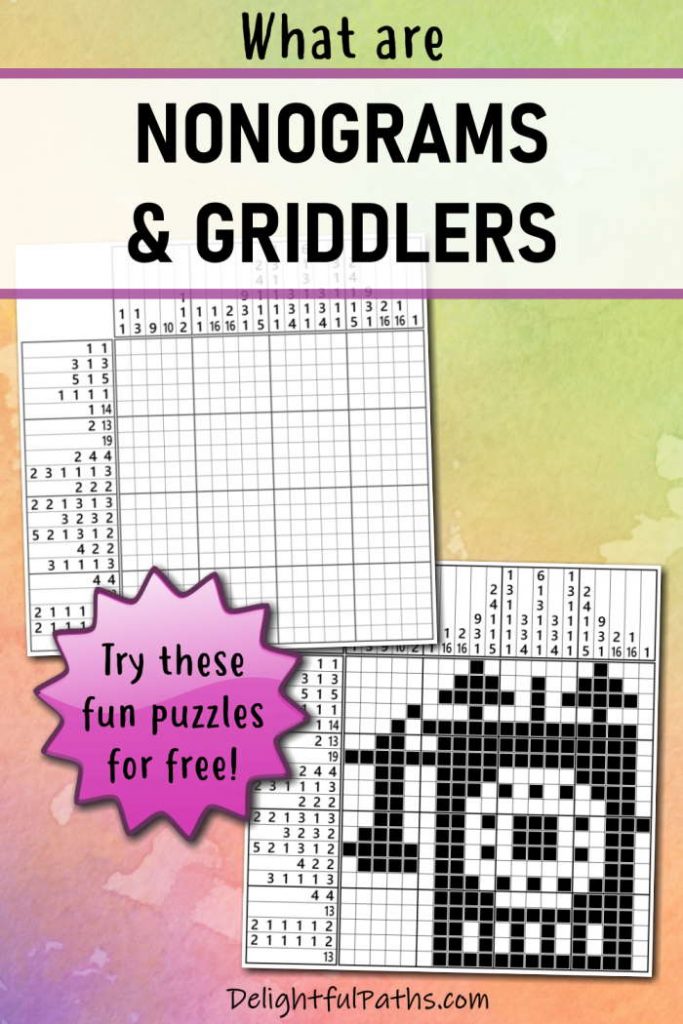 Other names for nonograms
I usually call these types of puzzles nonograms but they are actually known by several different names depending on where you find them. Here are some of the variations:
Griddler (UK newspaper)
Picross (Nintendo game)
Paint by number (which makes me think of a different type of picture I used to do as a child!)
Oekaki puzzle (Japanese for doodle)
Hanjie
You can get can be multi-colored nonograms, but I confess to just enjoying the type that just requires an ordinary gray pencil to complete.
How to play nonograms or griddlers
In a black and white nonogram or griddler puzzle, the numbers in rows or columns represent blocks of black in that row or column. If there are two numbers in a row/column, it means there are two blocks of black in that row/column separated by at least one white cell.
For example you could fill in this row with the clue 3,2 like this:

or this:

or this:

or this:

but not this:

(there must be at least one white cell in between the blocks)
nor this:

(you must keep the blocks in the same order as the number clues ie the block of 3 first then the block of 2)
and not this:

(you can't split the blocks).
I only like the types of nonograms where no guessing is involved, the ones where you have to use logic to figure out which cells are black and which are white. So in the above example of the row with 3,2, you would not be able figure out where to put the blocks. You would need to look at the other rows and columns to start solving the puzzle.
Example of solved nonogram
So here's a completed puzzle showing how the blocks work.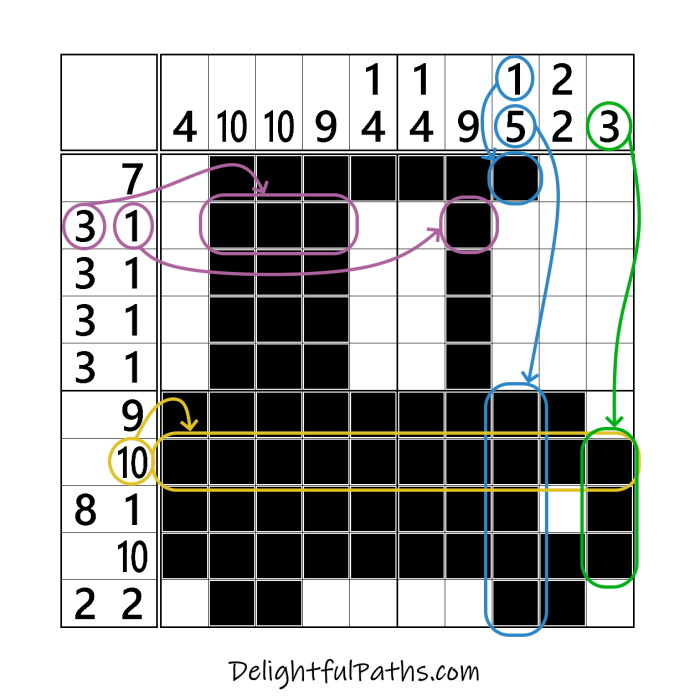 There is a yellow highlighted block of 10 cells across in a row and a vertical green highlighted block of 3 cells in a column.
I have highlighted in pink a block of 3 followed by a block of 1 (horizontal).
I also highlighted in bue a column with a block of 1 followed by a block of 5.
But if you check every other row and column in this puzzle, you will see that every number clue is satisfied. And that's your goal 🙂
How to solve a nonogram
There are quite a few methods and tactics for solving a nonogram puzzle.
See an example of how to solve a nonogram.
Nonogram puzzles – fun for adults and teens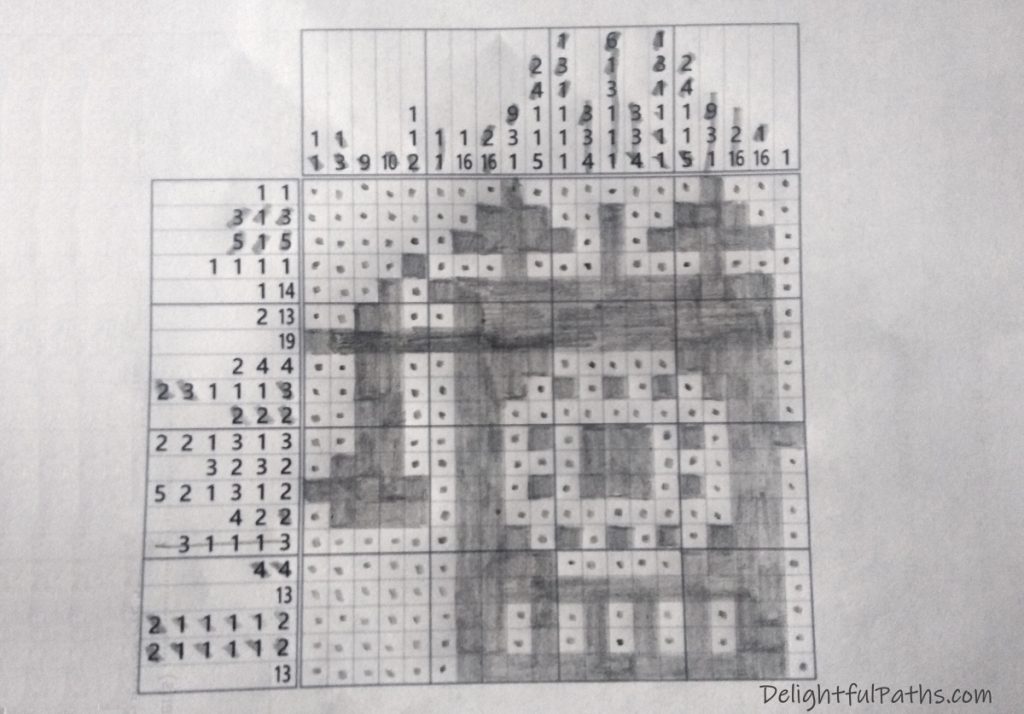 Nonograms are great if you are looking for a new hobby or something fun to fill in some time. Nonogram puzzles are a great boredom buster and are suitable for both adults and teens and both males and females. You can easily carry a book of puzzles with you when you are traveling, if you have to wait in a waiting room somewhere, or if you are stuck at home. It's also easy to just work on a puzzle when you have a few minutes of spare time.
Last Christmas I gave nonogram books to several members of my family. Some who didn't receive a book asked if I had any spare when they saw how much enjoyment the others were having with the puzzles. Fortunately I had a few spare to give 🙂
Free nonogram puzzle book
If you'd like to try some nonogram / griddler puzzles for free, you can sign up for my puzzle newsletter. You must be over 13 years old to sign up. Then I'll send you the link to download a book of 25 puzzles with instructions and answers.
Let me know how you go! 🙂
Do you call them nongrams, griddlers or something else?