Would you like to take more in when you read the Scriptures in your quiet time? Then let me recommend color coding or highlighting your Bible.
I have been color coding my Bible for many years. In fact I have recently just started color coding my fourth Bible. My method of color coding involves mostly underlining phrases with my chosen colors, but I also have put boxes around some phrases (eg "fear of the Lord") and colored in other words (eg "delight", "rejoice" and "joy") as I have done extended studies on particular topics.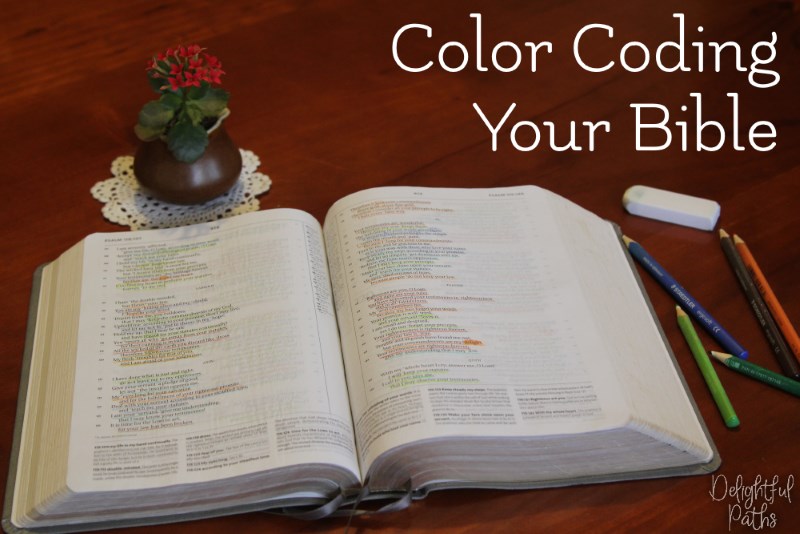 This post contains affiliate links. For more information, see my disclosures here.
Benefits of Color Coding Your Bible
Color coding your Bible forces you to slow down as you read the Scriptures and focus on what the words are saying. This will enable you to absorb more of what you read. If you're anything like me, sometimes you might read without putting your brain into gear and so the words just go in through one eye and slide out through the other. Just a little confession here: I have been known to fall asleep when I'm reading too (even when I've been reading aloud to my children … but that's a whole other story! Just ask them; apparently I can read in my sleep – my speech just becomes very slurred!) But when you color code, you need to read for understanding so that you can properly mark your Bible according to your chosen system.
I have also discovered that it is much easier to find various verses in the Bible after you have color coded a chapter. One of my categories is promises; they are underlined in blue. So when I want to write an encouraging verse in a card or to thank the Lord for what He has done or will do, I can flick in my Bible to find a passage underlined in blue.
Color coding your Bible also helps you keep track of which books you haven't read yet – all those without your colored markings.
Lastly it makes your Bible look pretty. (Ha ha. Is that really a benefit? 😉 )
Of course, the most important benefit is the first one. So determine in your heart to study the word of God and obey it (Ezra 7:10).
How to Color Code Your Bible
1) Decide On Your Categories
It may take you a while to decide on how you will color code your Bible. First you need to decide on what categories you want to focus on. You could check out my Pinterest board to see some different ideas and methods for marking up your Bible from several different people.
If you are planning on a simple underlining or highlighting scheme, it is probably best to have no more than 10 or 12 categories, because you will need distinct pens, pencils, or highlighters for each category. If the colors are too similar, you will have difficulty when you are scanning through your Scriptures looking for a particular category. Some people use special marks or diagrams for different categories which enables them to have more.
I have chosen the following categories: God, Jesus, Good, Evil, Promises, Punishment, Faith, Attitudes, Prayers, Laments, and Intriguing.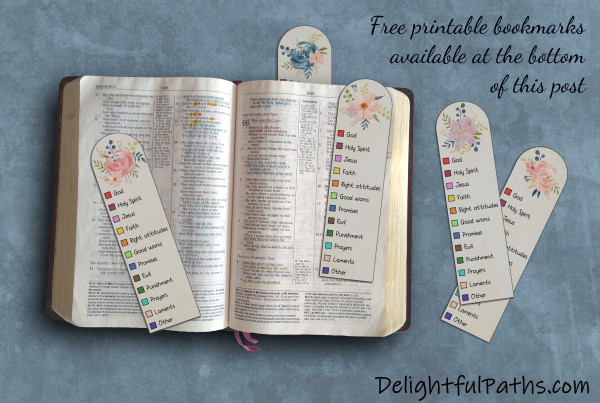 2) Decide On Your Colors
Deciding on the colors you will use for each category is quite a personal decision. Choose colors which help you to remember a category. So for instance, I don't recommend using your favorite color for the "evil" or "sin" category!
You also will need to choose colors which are distinct enough from each other that you can easily determine the category of a phrase or sentence that has been highlighted or underlined.
Here is my color key guide:
Red – God's character, God's work, God's names, God's interaction with mankind
Plum – The Holy Spirit
Pink – Jesus, Jesus' names, prophecies about Jesus
Yellow – Faith, trust, belief
Orange – Attitudes I should have
Light Green – Good, obedience, good people, good works
Blue – Promises, rewards for obedience
Brown – Evil, sin, things to avoid, the devil
Dark Green – Punishment for sin, judgment
Aqua – Prayers
Peach – Laments
Purple – Other intriguing verses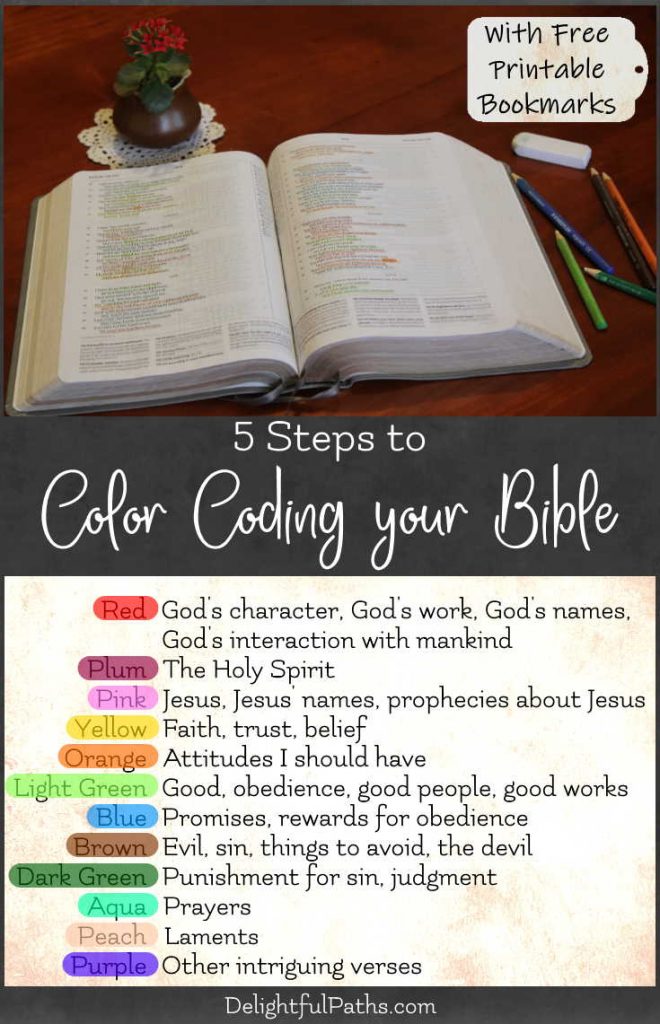 3) Choose Your Tools
You will need to decide which coloring tools you will be using in your Bible. Here are some of the different tools you can use:
Colored Pencils – My favorite 🙂 ! I have used several different types of colored pencils.
I love my automatic pencil. It is a nice compact size which is very easy to take with you in your Bible case. And you don't need to sharpen the leads. You just push the button at the end of the pencil to get the lead to the required length. You can also buy refills for the leads. I have also found other brand refills also can fit into this pencil. You are limited to eight colors. However, if you have more than eight categories, you could use this automatic pencils and just use other pencils to supplement it.
I have also used my prismacolor premier pencils for color coding. These are beautiful, waxy pencils which glide onto the page. Because they are so creamy they hardly dent the page at all. This is particularly useful if your Bible has thin pages. And the pencils come in a huge variety of colors.
I have also used my staedtler ergosoft pencils. I have the 24 pack in the stand up easel case. These are not as soft as the prismacolor pencils but they still work well. I just have to be a little careful not to push too hard, because my new Bible has very thin pages.
Pens – I have used pens but I was not very happy with the result because they also bled through and showed up on the back of the page. I can't remember the brand I used. You may find some that work well. Let me know in the comments if you do.
Highlighters – I have never used these. They can bleed through your page. I recommend testing them first on one of your extra pages in your Bible where it won't cause a problem if it does bleed through.
Twistable crayons – I have not used these either. These have a thicker point and would not be so good for underlining.
Ruler – In my first Bible, I used a ruler to keep my lines straight, but in subsequent Bibles, I have just drawn my lines freehand.
Eraser – This is very handy if you make a mistake or change your mind. You will need to check if an eraser will work on your chosen coloring media. I use a white eraser and it works tolerably well with my prismacolor and my staedtler pencils (I can't remember if it worked with my pentel leads. I have non-Pentel refills now and so I can't test it out.) My eraser rubs out enough color so I can go over the top with the correct color. You do need to be careful using an eraser though. Be gentle and stroke outwards towards the edge of the page to avoid ripping the page (unfortunately I speak from experience 🙁 )
Pencil sharpener – You will need this if you are using ordinary colored pencils.
4) Make Yourself a Key
Make a key showing the color and the category name and keep it in your Bible. I found a blank page in my Bible and recorded my key there. But you could just use a slip of paper or make yourself a bookmark to remember your key. Don't worry. After a while, if you are consistent with color coding your Bible, you will learn which colors go with which category and you won't need to keep referring to your key.
I have made some free printable bookmarks which you can use when color coding your Bible. Use my exact Bible highlighting guide or create your own. I have made four different versions which I have included in my resource library. Instructions for getting the password to this free library are at the bottom of this post.
Watercolor flowers color coding bookmarks (set categories)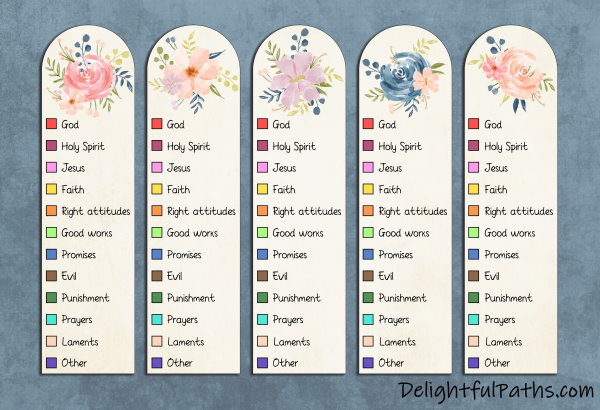 Watercolor flowers color coding bookmarks (DIY categories)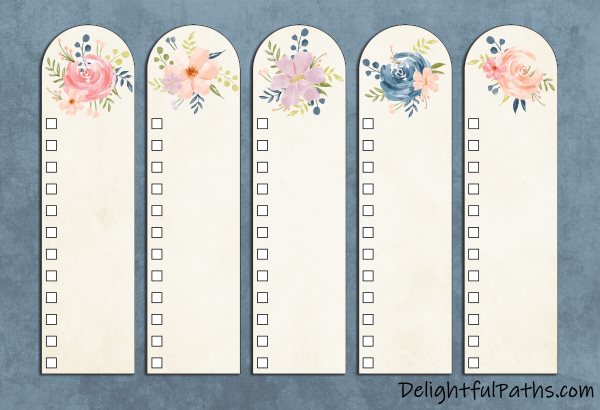 Coloring page color coding bookmarks (set categories)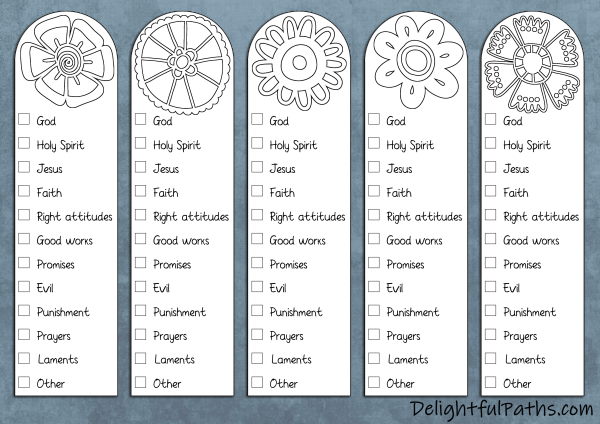 Coloring page color coding bookmarks (DIY categories)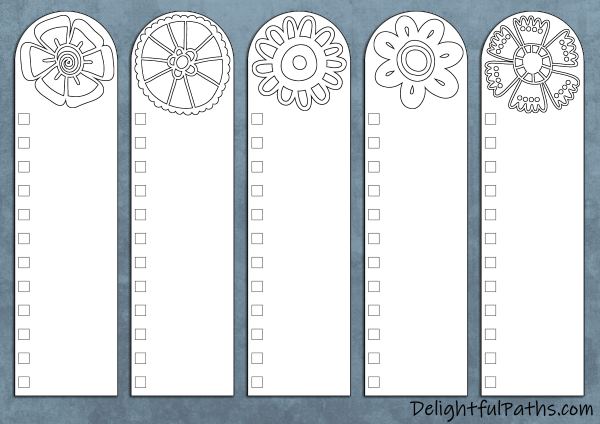 5) Start Color Coding Your Bible
Now for the fun part!
As you read your Bible, mark what you are reading according to your chosen categories. Different ways to go about color coding:
Color code as you read each verse.
Read the passage through first without any marking and then read through a second time marking everything as you go.
Read your selected passage looking for sections to mark from one category. Now read the same passage again specifically looking for another category. Repeat until you have gone through all your categories.
I prefer reading through whole chapters / books because then you will get each verse in context. But you could do a topical study where you will mark verses throughout the Bible within a given category. Just take care that you are keeping the verses in context.
Your Turn
Okay. Now it's over to you. It's not complicated. Just get started.
Don't feel guilty about marking or writing in your Bible. Yes, it is God's word to you but it is intended to impact your life. The Bible is not simply a book for your information, but a book for your transformation. The Scriptures are God's Word to us and as we read, absorb and obey what we read, little by little, we are transformed into His image, we mature in our faith, and we are equipped for doing good works.
Get the Free Printable Color Coding Bookmarks:
Subscribe (free!) to get access to the four different styles of color coding bookmarks (as well as my whole resource library with all my coloring crafts and printables!) Once subscribed, I will send you a semi-regular newsletter with details about my new free files, occasional offers, and other things you may be interested in.

If the form above is not showing, you can get the password by filling in the form here: free Christian printables.
Let me know how you go! 🙂