A selection of printable Father's Day coloring crafts, including greeting cards, bookmarks, special printable gift wraps, and more.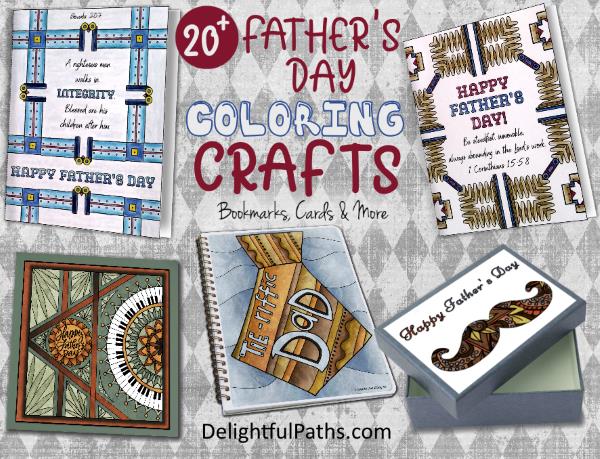 Whether you're after some easy printable father's day crafts or you after some father's day coloring pages, we've got you covered!
The perfect way to express your love and thanks to your Dad on Father's Day is to make something handmade. I've been searching the internet to find some Father's Day coloring crafts so you can do just that! And these adult coloring crafts are simple but effective.
Please note that some of the links below are affiliate links which means that I will receive a small commission if you click on those links and them purchase something. But you can find at least one free printable at each of these pages 🙂
Printable Coloring Father's Day Greeting Cards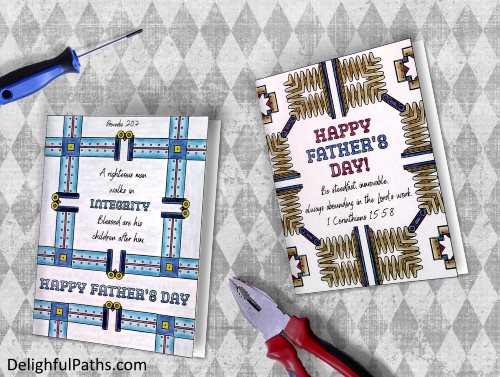 2 Bible verse Father's Day cards from delightfulpaths
Two Father's Day cards featuring Bible verses (Proverbs 20:7 and 1 Corinthians 15:58) with metallic patterns which wraps around the back of each card. (I've colored these cards using primary color palettes.)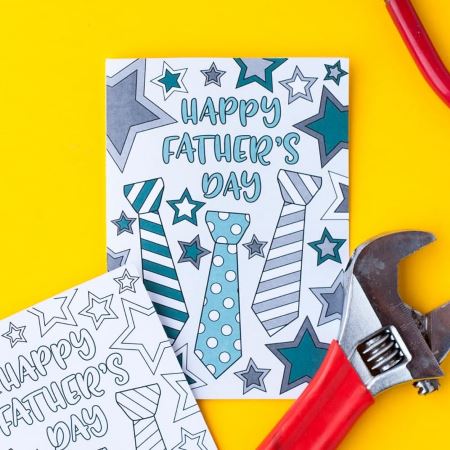 Father's Day Card from sarahrenaeclark
(affiliate link)
A free printable card for Dad featuring stars and ties. This card is a sample from Sarah's pack of 10 Father's Day coloring cards which are available for purchase if you'd like 🙂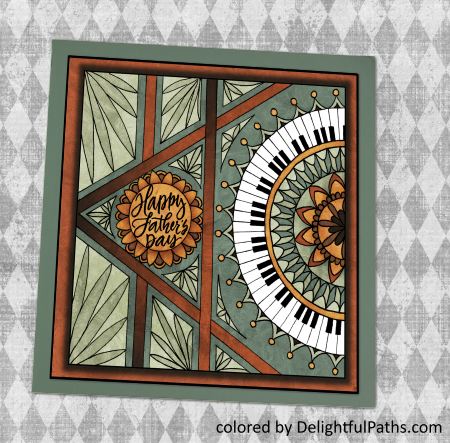 Printable Card by Betty Hung from creative scrapbooker magazine
An interesting patterned card with a curved piano keyboard and a Father's Day greeting. Fabulous for those musical dads or those who love listening to music. (I colored the one above using a color palette from my steampunk color schemes.)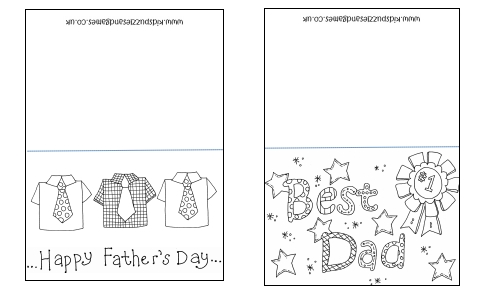 Printable colouring sheets for dad from kidspuzzlesandgames
You'll find several printable Father's Day crafts here. My favorites (the ones most suitable for adults) are the first and the last ones – Best Dad and shirts and ties.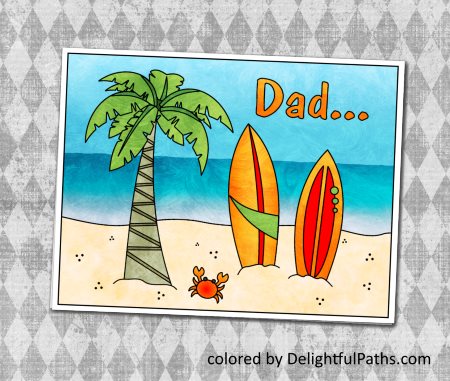 Set of 6 free printable Father's Day cards with matching envelopes from squishycutedesigns
This cute set of coloring cards come with matching envelopes. The designs are: #1 dad with starry frame, a frog on a lily pad, a yacht, world's best dad, three ties, and surfboards on the beach (the one I colored above)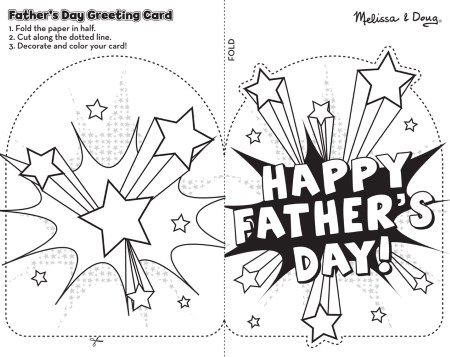 Printable fireworks card from melissaanddoug
A starry fireworks arch shaped card with a picture on the front and the back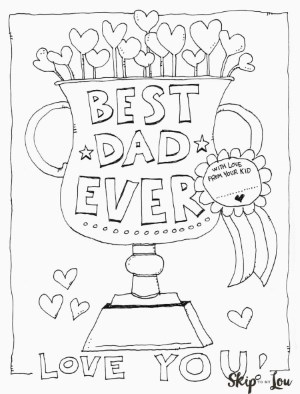 Award your dad a trophy with this trophy coloring card for "Best Dad Ever"
https://blog.honest.com/free-printable-fathers-day-card/
A fold in half card showing construction vehicles on the front
https://familymaven.io/kidsactivities/celebrate/free-father-s-day-doodle-art-cards-to-color-w3g1zaaanUek33hohaF63w
Free father's day doodle art cards to color – A set of four cards featuring father idioms.
https://blog.hobbycraft.co.uk/free-fathers-day-card-download/
Great for the handy man dad – a fold in half card featuring different tools
http://www.smallfriendly.com/small-friendly/2014/06/free-printable-fathers-day-card.html
Just color the words: My Dad is super rad.
Printable Coloring Father's Day Bookmarks
If your Dad enjoys books, a bookmark (or two or three) could make the perfect gift especially if accompanied by a book which you know he will love!
http://www.sparklebox.co.uk/5621-5630/sb5623.html
Click the gray "free download" button to access 8 pages of bookmarks (3 to a page). My favorite are the motorbikes!
Printable Coloring Father's Day Wrapping Ideas
Okay. So you've got the traditional fail-safe gifts of socks and chocolate! Why not wrap them in a novel wrap that you have colored yourself?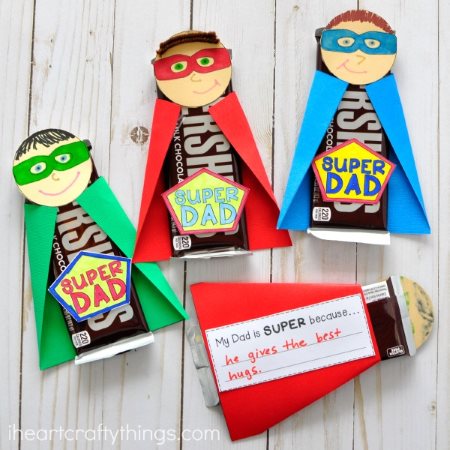 Cute Super Dad Father's Day Gift from iheartcraftythings
Wrap a chocolate bar in a super hero cape. Draw and color the face and "super dad" logo to stick on the front.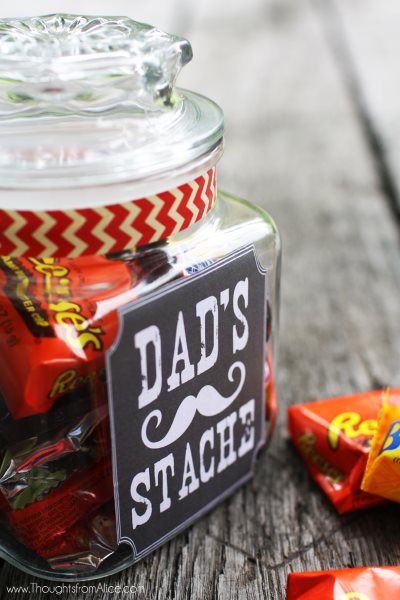 Father's day gift jar label from thoughtsfromalice
A chalkboard label saying "Dad's Stache" – lovely to stick onto a jar for your dad, containing treasures such as chocolates, golf tees, fishing lures, nails or whatever! Easy to color the white sections.
https://www.hellolucky.com/wordpress/2015/6/14/free-fathers-day-diy-templates-updated-for-2015
This page has some novel printables for wrapping up that gift of socks. There's not a lot to color but they are very cool!
Other Printable Coloring Pages Perfect for Father's Day
The following printables are coloring pages which you could use in a variety of ways, including shrinking and using as a card front, sticking onto the front of a journal or notebook, or on the top of a gift box, or simply mounting in a nice frame.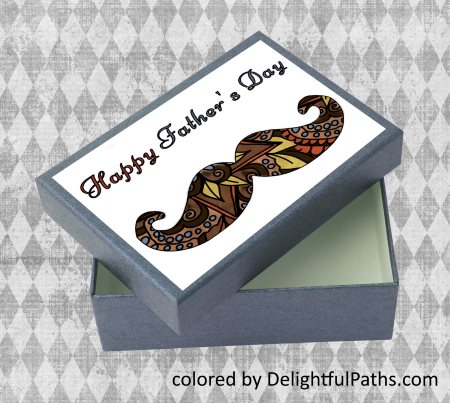 Free Father's Day coloring page from educationalprintables
A fabulously curled moustache with intricate patterns to color.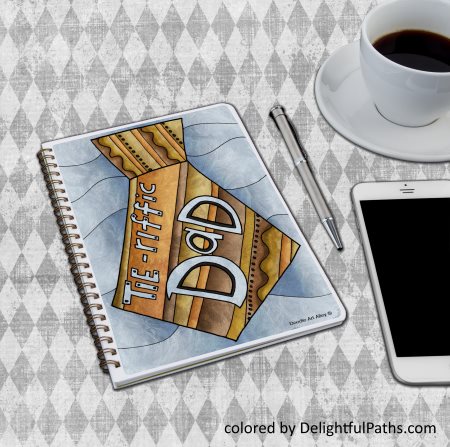 Six Doodle Father's Day Coloring Pages from doodle-art-alley
A great set of six different doodle designs. The design I have colored reminds me of the typical "dad joke". Go check out the other coloring pages too!  (I colored this one using a color palette from my steampunk color schemes.)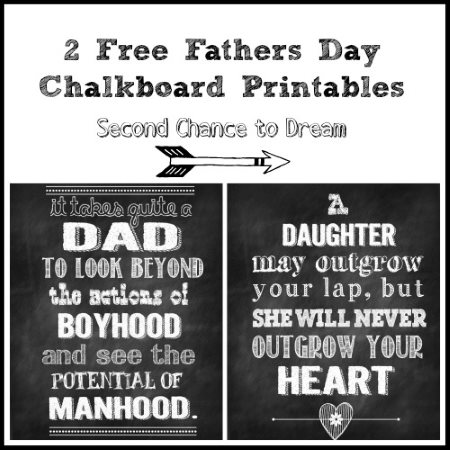 Father's Day Chalkboard Printables from secondchancetodream
Two different chalkboard printable pictures. These look really effective when colored, but they do require a bit of ink to print because they have so much black in them. There is one version for a daughter to give her father and another for a son to give his father.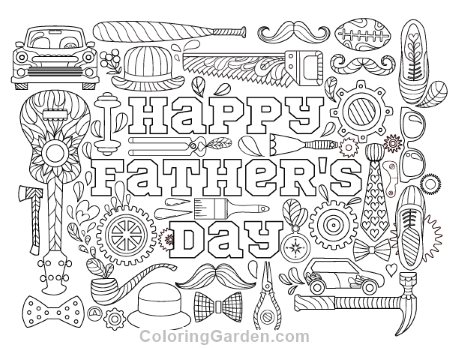 Men's interest coloring page for Father's Day from coloring garden
This page features all kinds of things that men are interested in, such as cars, sports, tools, music, moustaches, and bow ties. You can pay for a version of this page or you can download a free version which includes a watermark.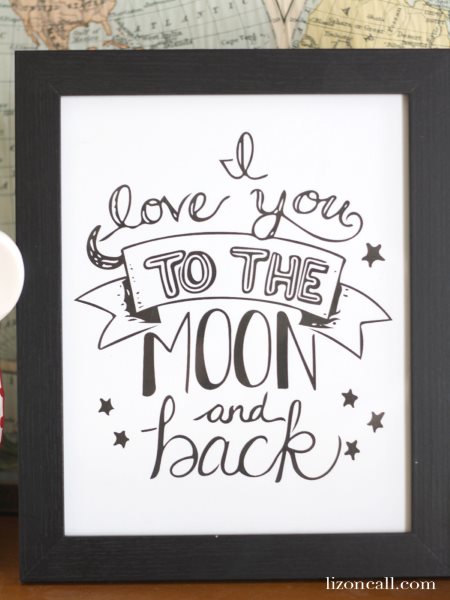 Love you to the moon and back from lizoncall
This one is not specifically for Father's day, and you'll basically be coloring just the background. But I thought it was too cute to pass by. So use it for dad or for someone else very special 🙂
So that's it. 20+ free Father's Day coloring printables. Which do you think you might use?
Pin this Father's Day printable coloring crafts post so you can try a different one next year!