Make a pretty floral handmade greeting card with the free easy 3D flower card coloring page featuring a Bible verse from Psalm 145.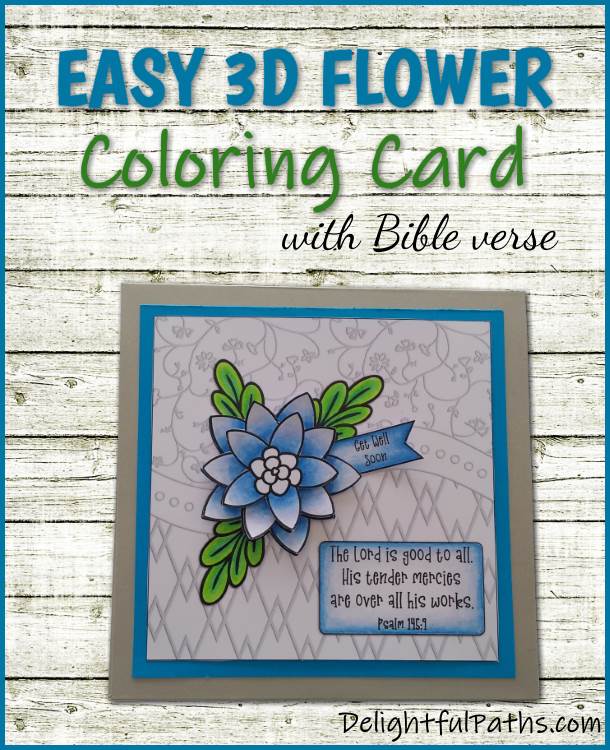 I regularly leave things to the last minute – I think "Procrastination" is my middle name! So I designed this card for moms just like me – or for busy moms, or for those times when you need a really quick card. This pretty floral card features a Bible verse from Psalm 145:9

The Lord is good to all. His tender mercies are over all his works.
I have also included a variety of sentiment tags so that this card can be created for many different occasions:
Happy Birthday
Get Well Soon
Happily Ever After (for a wedding)
Happy Anniversary
Praying For You
I have designed the card background so that it looks embossed. You can color it if you like or just leave it as is. This will save you a lot of time! 🙂 You will only need to color the leaves and the floral elements. Even then, you don't need to color ALL the floral elements because you will be layering the flower to make it 3D. So  some of the bottom layers will not be visible once the card is made up.
The coloring page for these easy 3D flower greeting card is available in my free resource library. (Library access instructions are at the bottom of this post.)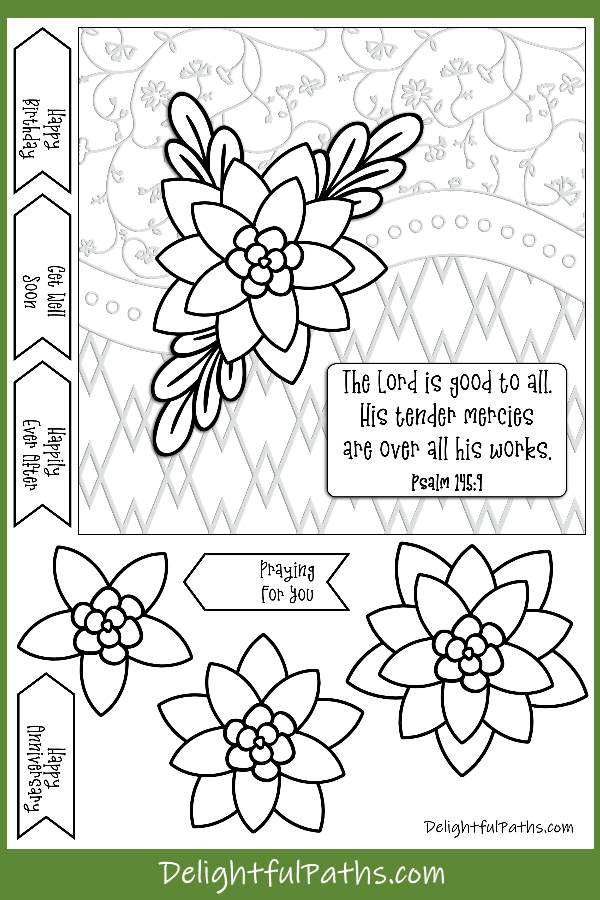 Materials for the easy 3D flower coloring card:
Easy 3D flower card printable coloring page (available in my free resource library – get the password for free by filling out the form at the bottom of this post)
cardstock for printing the page (preferably white or cream)
pencils, pens or markers for coloring
scissors
double sided tape or glue
contrasting card for mounting the finished card front on. In my card you can see below, I first mounted the completed card front on blue card then on a silver card.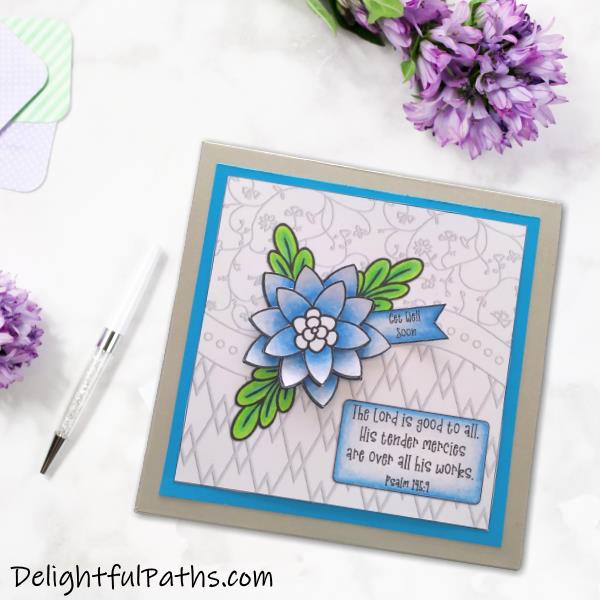 How to make your easy 3D flower greeting card:
Step 1 – Print and color the free coloring page template
I actually printed out the template at half the size so that the card would be smaller (and so cheaper to post) but the card is still made up in the same way.
To save a bit of time while coloring, I didn't color every element. Some of the floral elements would not be seen at all so I left them. I also left the background as it is, without coloring it.
You will also notice that I decided to color the Bible verse tag after I cut out the elements, but you could just leave it white.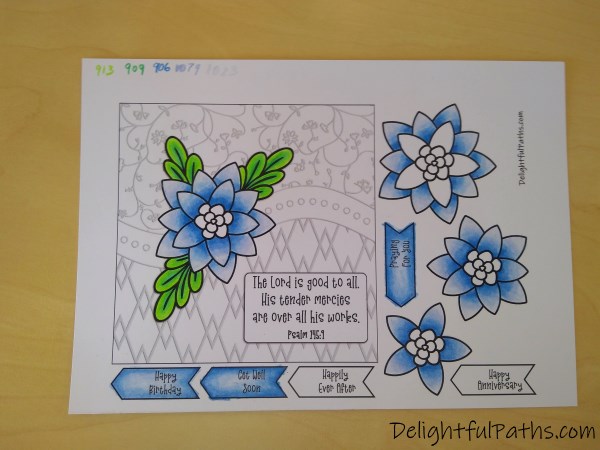 Step 2 – Cut out the elements
(See – now I've colored the Bible verse ;-))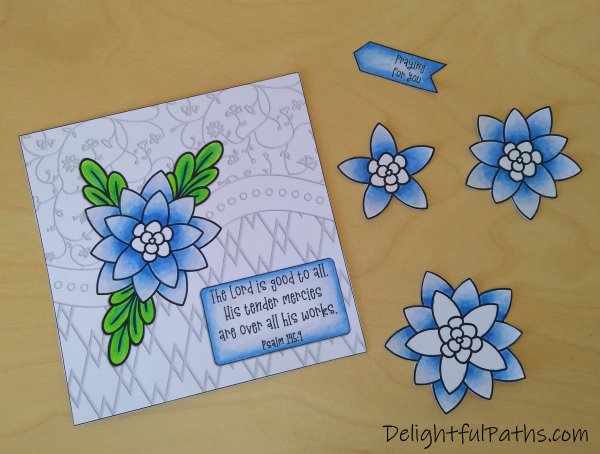 Step 3 – Create the 3D flower
If you like, you can roll the petals slightly or stretch them between your thumbnail and finger to give them a bit more shape. Stick double-sided tape on the back. Line up the flower parts and stick them together.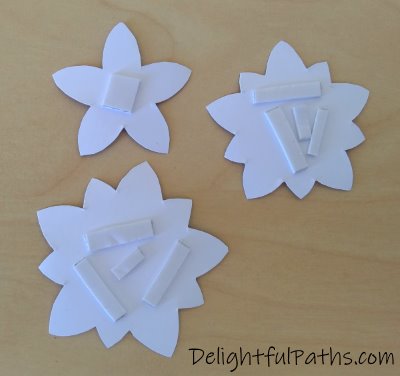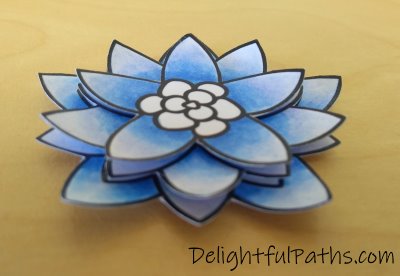 Step 4 – Attach the flower a the sentiment tag of your choice to the card backing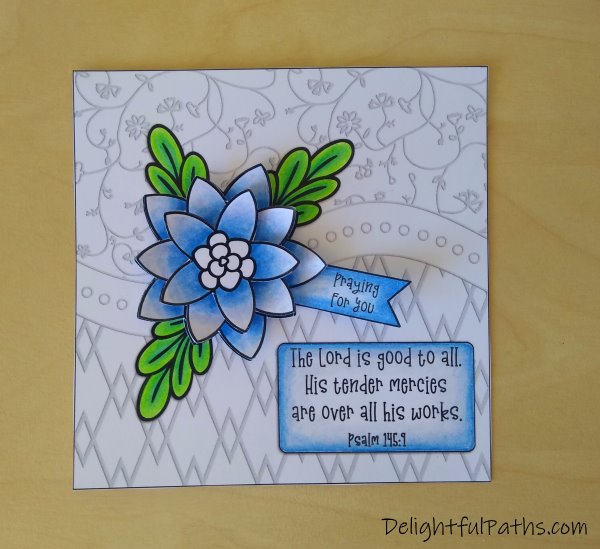 Step 5 – Attach the card front to your contrasting card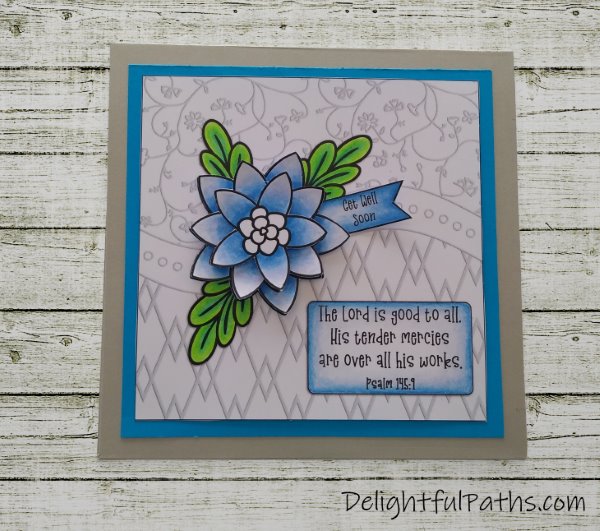 Get my free coloring page for the easy 3D flower card:
Subscribe (free!) to get access to the easy 3D flower card coloring page (as well as my whole resource library with all my coloring crafts and printables!) Once subscribed, I will send you a semi-regular newsletter with details about my new free files, occasional offers, and other things you may be interested in.