A roundup of 15+ pretty mother's day printable coloring crafts across the web, including greeting cards, bookmarks, gift tags and more.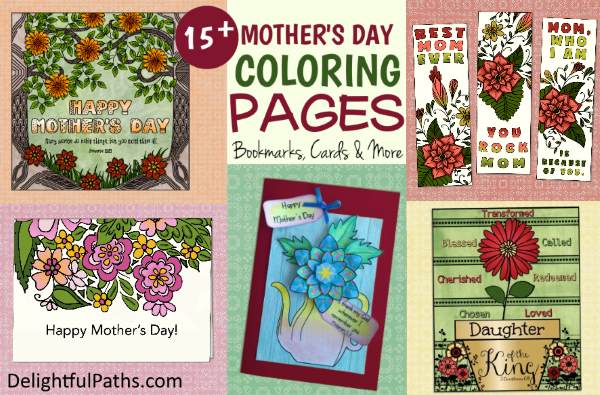 As a mother, I love receiving handmade cards from my (now adult) children. There's something very special about receiving an item which has been created by the giver. To me it shows extra effort, care and thought – a gift made from the heart. And handmade items need not be super complicated. Coloring crafts are a great idea for people of all skill levels.
So I've been searching the internet to find some mother's day printable coloring crafts so that you can make something special for your own mom this mother's day.

Okay – time for a confession – Not all the craft projects have pictures yet because I was a bit late in sending out requests to the different sites 😛 (aargh!). If I am granted permission to display a picture, I will add those pictures to this post. But since mother's day is almost upon us, I thought it best to publish this post now.
Printable Coloring Mother's Day Greeting Cards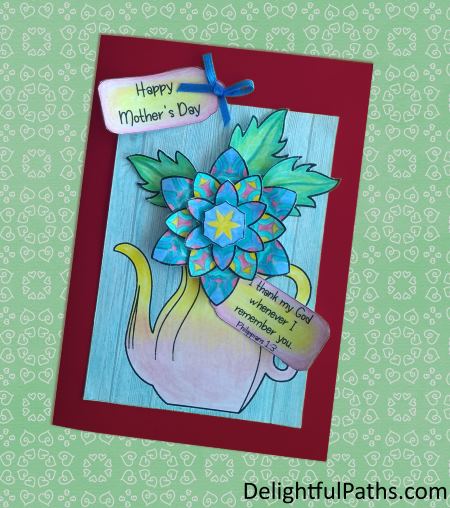 3D Floral Mothers Day Coloring Card
Hehe – this one is mine :-). Here is a one page craft to make a greeting card. Print out the free template of flower layers, leaves and card topper (a vase against a woodgrain wall), then follow the instructions to make a 3-D flower card.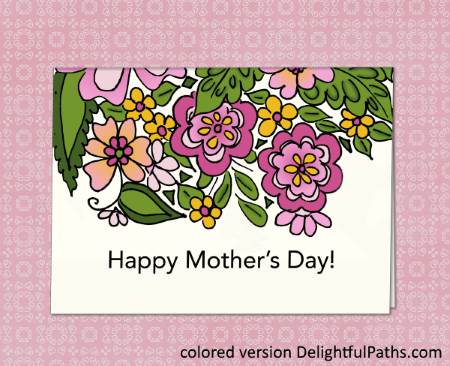 2 pretty floral mother's day cards to print and color
Two pretty floral cards to simply print, color and fold in half. Make sure you look at both of the cards available on this page. When I first visited this page I only saw the first card. Keep scrolling down and you will see another one :-).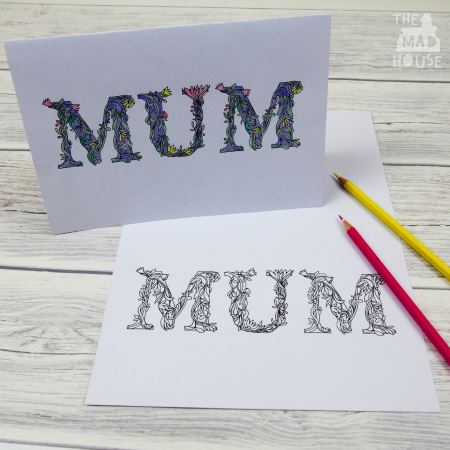 Beautiful Floral Lettering Mothers Day Colouring Cards
Lovely printable card featuring pretty floral letters, spelling either "MUM" or "MOM".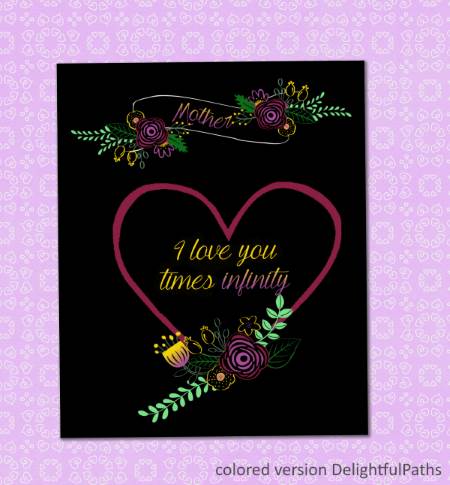 Free Printable Mother's Day Cards
Two different, floral chalkboard style cards on one page. This one will use rather a lot of ink to print, but it will be very quick to color and it's only the front that's colored, not the back!
FREE Mother's Day Printables For Kids!
This pretty floral card is designed for children, but it would also be quite suitable for adults to color. The arch-shaped card has a design on the front and on the back. Very pretty!
Printable Photo Mother's Day Cards
Two floral card toppers with space to add a photo. Comes in colored and uncolored versions.
Mother's Day card colouring templates from sparklebox
Click on the gray "free download" button to get a booklet containing 9 different cards. Most of these are a bit simple, but there are a few that you may like, including a lovely basket of flowers and a vase of roses.
Printable Coloring Mother's Day Bookmarks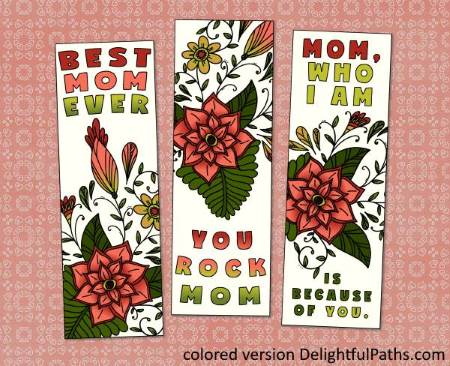 3 stunning floral mothers day bookmarks to color
Three gorgeous floral bookmarks with special sentiments for your special mom!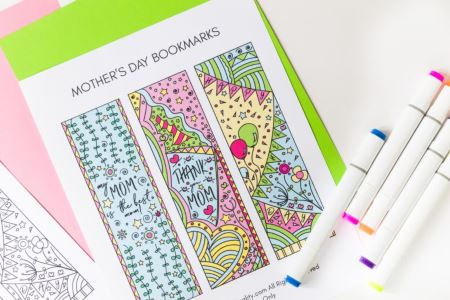 3 fun coloring bookmarks for mother's day from daydreamintoreality
Set of three fun, intricately patterned bookmarks which you can download either pre-colored or not colored.
Leaf and bird bookmarks coloring sheet from livinglocurto
Four leaf and bird bookmarks which you can download already colored or not colored so you can choose your own color scheme. Also includes a bookmark for "Grandma"
Printable Coloring Mother's Day Gift Tags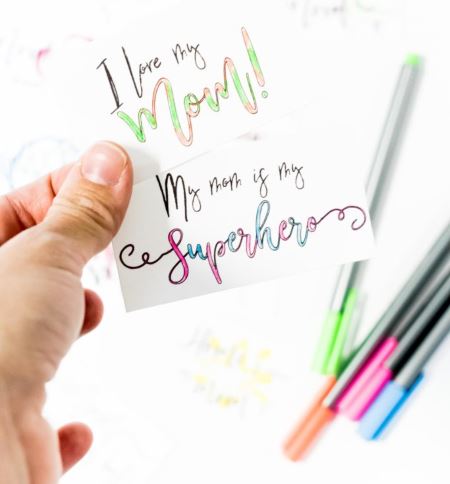 8 free printable mothers day pocket cards
Tell your mom how special she is with this set of 8 great pocket cards in 4 different styles, with encouraging phrases. These are really easy to color. There is even a pre-colored version if you are in a really big hurry. Super cute to use as gifts tags too!
Mother's Day gift tag colouring from sparklebox
Large, simple gift tags with three per page. I printed these out half sized. Click on the mauve "DOWNLOAD FREE" button on the right of the page above the sample pictures.
Other Printable Coloring Pages Perfect for Mother's Day
Use these pages to make other crafts, such as mounting one in a frame, sticking one on a gift box or gift bag, or printing at a reduced size to make a greeting card.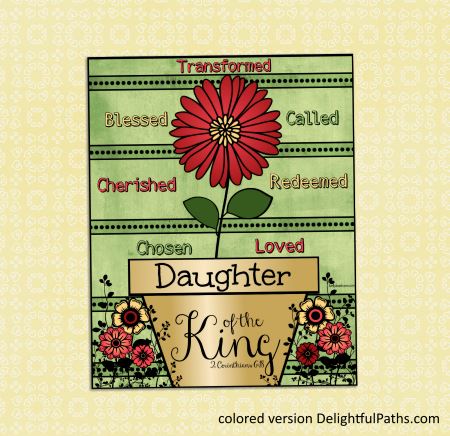 Daughter of the King free printable from blossominfaith
Daughter of the king floral coloring page with a Bible verse from 2 Corinthians 6:18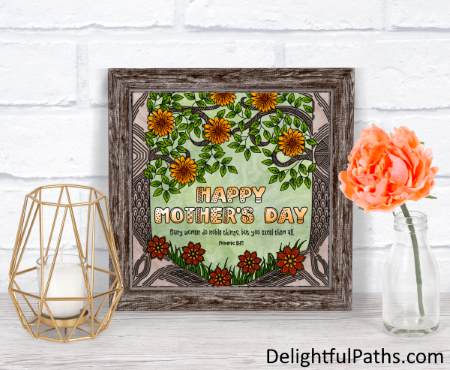 Forest Flowers Proverbs 31 Mother's Day Coloring Page
Another one of mine 🙂 – this time just a straight forward coloring page featuring a Bible verse from Proverbs chapter 31 verse 29.
Proverbs 31 Mothers Day Kids' Coloring Page
Vase of flowers with Proverbs 31 Bible verse. This one is labeled as a kids' coloring page, but I think it is perfect for adults to color too 🙂
Butterfly and flowers coloring pages for Mother's Day
Two sweet coloring pages with special messages for mom and a Bible verse from Proverbs 31.
So there you have it! 15+ pages of different Mother's Day printable coloring crafts. Have fun and happy Mother's Day!
Pin this Mother's Day printable coloring crafts post so you can try a different one next year!