A set of four Bible verse Easter coloring bookmarks with a free coloring page. These can be colored and used as bookmarks or made into special Easter cards.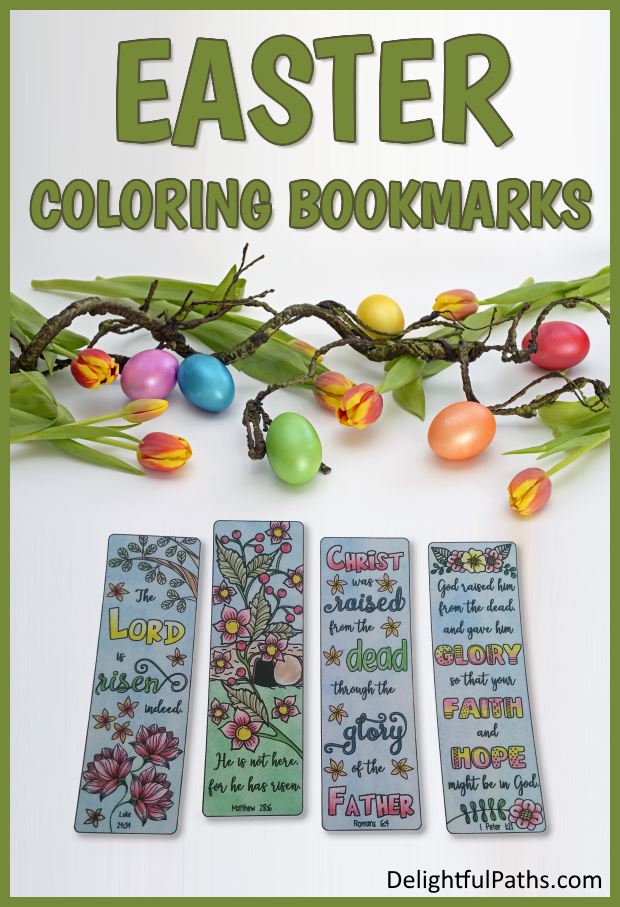 A lady I was talking to the other day made a comment about how surprised she was at seeing Easter eggs in the shops already. But when I thought about it, I realized that Easter is only 2 or 3 weeks away! Easter is a special time to really focus on the crucifixion and resurrection of Jesus Christ. So I decided to create some Easter coloring bookmarks and make them available in my free resource library – if you need the password, you can fill out the form at the bottom of this post.
As usual, I have included Bible verses on these bookmarks:
The Lord is risen indeed (Luke 24:34)

He is not here, for he has risen (Matthew 28:6)

Christ was raised from the dead through the glory of the Father (Romans 6:4)

God … raised him from the dead, and gave him glory; so that your faith and hope might be in God (1 Peter 1:21)
These bookmarks are so easy to make – just color, cut out and voila! Four Easter bookmarks.
Materials for the Easter bookmarks:
Easter bookmarks printable coloring page (available in my free resource library – get the password for free by filling out the form at the bottom of this post)
cardstock for printing the page (preferably white or cream)
pencils, pens or markers for coloring
scissors and/or cutting blade and metal ruler
different colored card to mount the bookmark on (optional)
double sided tape or glue (optional)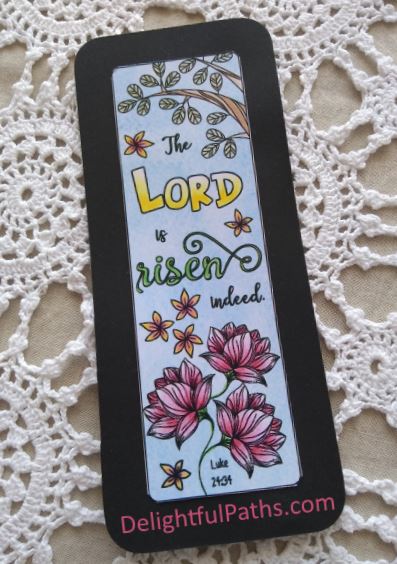 How to make your Easter coloring bookmarks:
Okay. These bookmarks are really easy to put together. After you have printed out the coloring page, simply color and cut them out. Mount individual bookmarks on a contrasting piece of card for a sturdier version (like the one shown above).
But you can make more than just bookmarks from this coloring page. I colored my four bookmarks with all the same color palette so I could combine them in one project (well – two of them at least!). The card below uses two bookmarks and small pieces of lace and ribbon.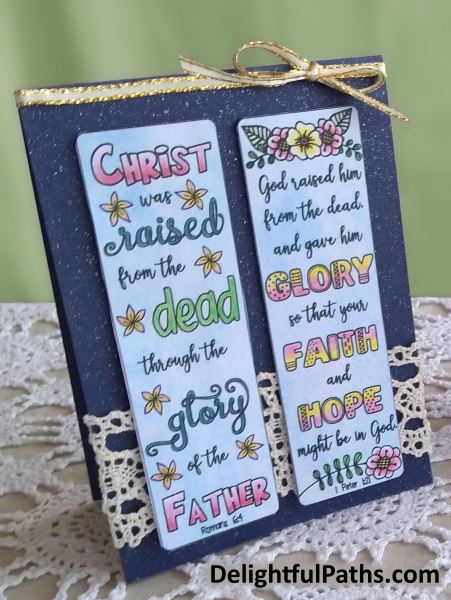 And I stuck the final bookmark to a piece of red card and then onto a long left-over strip of black card from my stash to make a long, skinny card.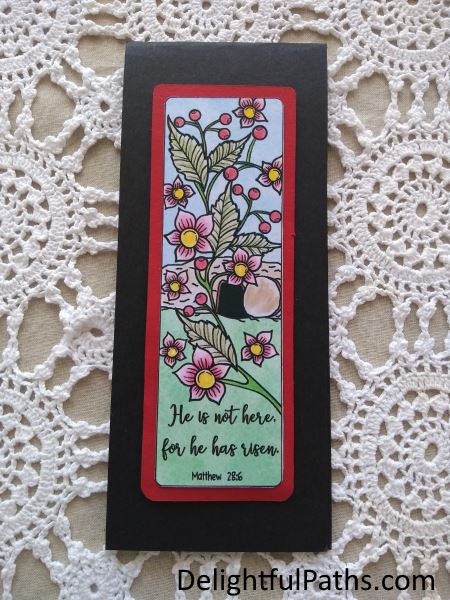 Get my free coloring page for the Easter bookmarks:
Subscribe (free!) to get access to the Easter bookmarks coloring page (as well as my whole resource library with all my coloring crafts and printables!) Once subscribed, I will send you a semi-regular newsletter with details about my new free files, occasional offers, and other things you may be interested in.
Save the Easter coloring bookmarks to your favorite Pinterest board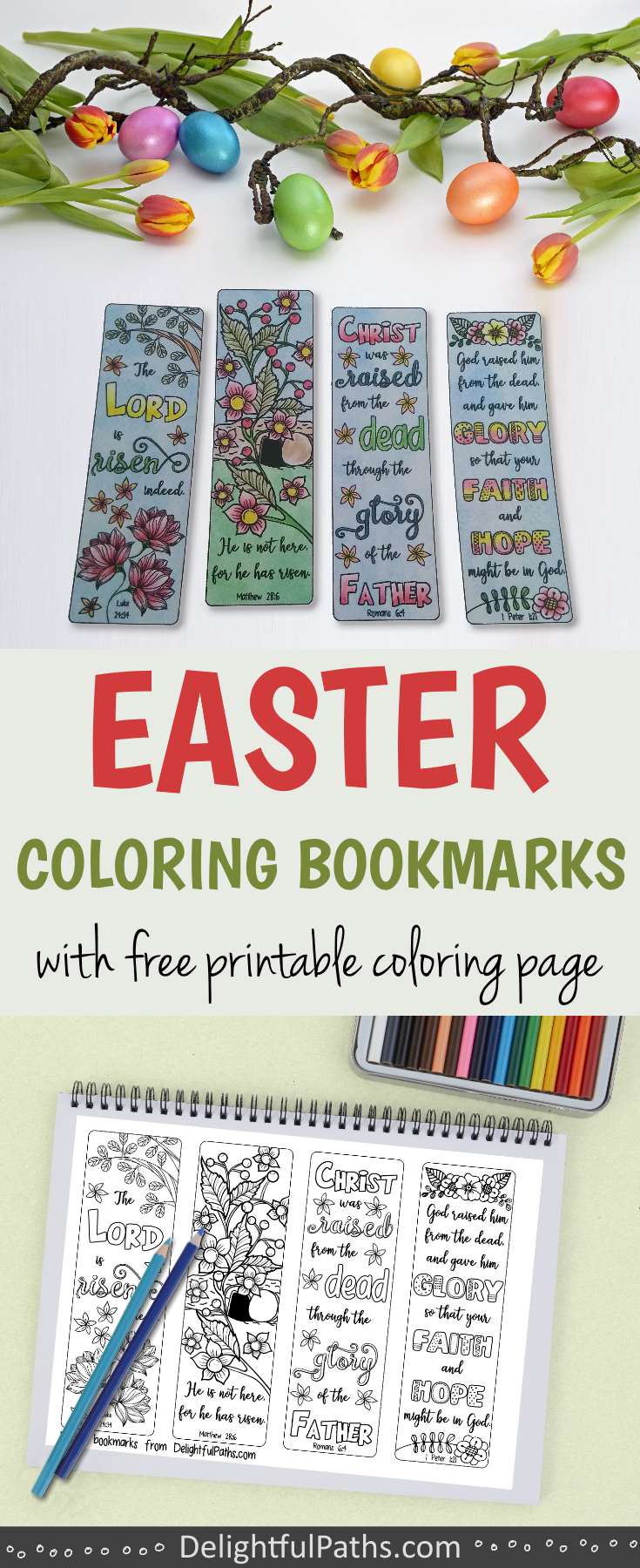 More Easter Crafts and Printables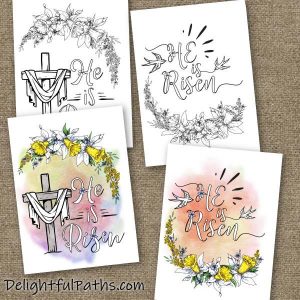 Free printable religious Easter cards
Two free, printable Easter cards celebrating the resurrection of Jesus. Both come in coloring and pre-colored versions and both feature pretty spring flowers and the words "He is Risen."