Read through the Bible in less than one year by reading 10 chapters a day from 10 different sections of the Bible using the Professor Grant Horner Bible reading plan. I've also designed four different styles of bookmarks to use with this method of Scripture reading. Scroll down to see them.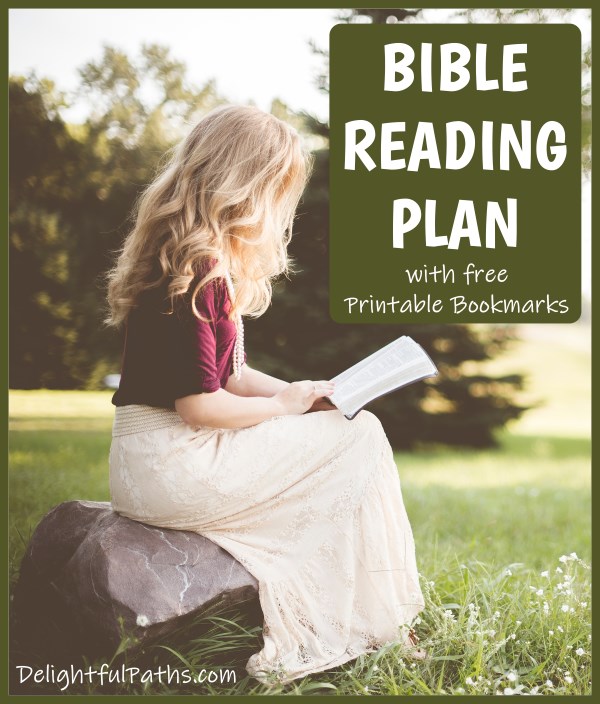 For many years my husband and I would do a Bible study together every morning before he left for work. But then he got a job which required him to leave home too early in the mornings. So while we could still continue to do our study together on the weekends, I had to do a Bible reading on my own on weekdays.
At that time (five or six years ago), I came across a website talking about the Professor Grant Horner Bible reading plan where you read ten chapters a day from various sections of the Bible. I had read the Bible all the way through a few times, but decided that I needed the challenge to do it again. My children were grown and were not demanding of my time, so I have been able to use this system, or my own slightly modified version of it, on and off, for several years now.

This is a great Bible reading plan for beginners but more mature believers will also love it.
How to Use the Professor Grant Horner Bible Reading Plan
This is how it works:
With the Professor Grant Horner Bible reading plan, you read through ten chapters a day, one from each of ten different sections of the Bible.
Gospels – Matthew, Mark, Luke, John (Reading through the gospels will take you 89 days if you read one chapter per day.)
Law – Genesis, Exodus, Leviticus, Numbers, Deuteronomy (187 days.)
New Testament Letters #1 – Romans, 1&2 Corinthians, Galatians, Ephesians, Philippians, Colossians, Hebrews (78 days.)
New Testament Letters #2 – 1&2 Thessalonians, 1&2 Timothy, Titus, Philemon, James, 1&2 Peter, 1,2&3 John, Jude, Revelation (65 days.)
Wisdom Literature – Job, Ecclesiastes, Song of Solomon (62 days.)
Psalms (150 days.)
Proverbs (31 days.)
Old Testament History – Joshua, Judges, Ruth, 1&2 Samuel, 1&2 Kings, 1&2 Chronicles, Ezra, Nehemiah, Esther (249 days.)
Prophets – Isaiah, Jeremiah, Lamentations, Ezekiel, Daniel, Hosea, Joel, Amos, Obadiah, Jonah, Micah, Nahum, Habakkuk, Zephaniah, Haggai, Zechariah, Malachi (250 days.)
Acts (28 days.)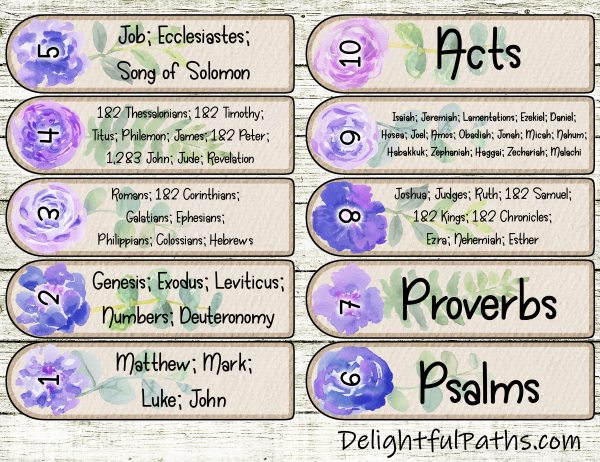 So on the first day, you read Matthew chapter 1, Genesis chapter 1, Romans 1, 1 Thessalonians 1, Job 1, Psalm 1, Proverbs 1, Joshua 1, Isaiah 1, and Acts chapter 1.
Then on day two, you read Matthew chapter 2, Genesis chapter 2, Romans chapter 2, … well you get the idea!
You continue reading through the books from each section, rotating back to the beginning of the list once you reach the end. This means that on day 29, you will continue reading the Bible chapters from where you are up to, but you will go back to Acts chapter 1 because you have reached the end of that list.
And so on day 90, you will have read Acts three times through, will be starting to read Matthew again for the second time, and will be reading the last chapter of Exodus for the first time.
Resources Needed for this Bible Reading Plan
Professor Horner recommends using one Bible and sticking to it – a physical one rather than a digital one. That way you will get to memorize where things are on the page. If you want to do this, you will need to make sure that you are using a translation that you like. It is also important to get a Bible with a sturdy cover and binding, and to have a format that you like (eg do you prefer one or two columns; do you like to see the verses in paragraphs or on individual lines etc).
Bookmarks are really handy (actually, essential) with this Bible reading method! So I have created some free printable bookmarks which you can access in my resource library (see below for how to get access).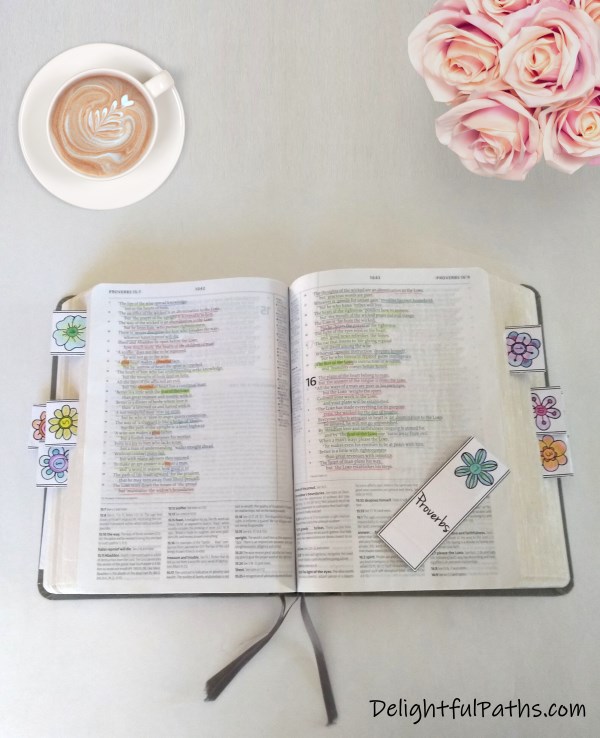 The Benefits of this Plan
Here are some of the benefits of this Bible reading system:
You will not feel bogged down in a book that you are struggling to understand because you will only be reading one chapter a day from the section
You won't miss out on any of the books of the Bible because now you won't be sticking to only your favorite books
It will be easier for you to find passages in your Bible as you get more familiar with your own Bible.
You get to read daily nuggets of wisdom from the wisest man who ever lived (Proverbs)
Every day you get to focus on the life of Jesus (the gospels)
You will be inspired to walk in a way worthy of your calling by reading a couple of chapters from the New Testament letters each day.
All you need is a Bible (and some bookmarks) – no other special resources are required
You are able to gain a clearer understanding of the foundational teaching by which the rest of the Bible can be understood (Law)
It's not a problem if you do happen to miss a day because you just pick up the next day reading from where your bookmarks are
The longest list, the prophets, is only 250 chapters (or 250 days) so even allowing for some missed days, you should be able to read the Bible in a year.
Let the Bible interpret the Bible…
And last, but not least, my favorite benefit – You will find that as you cycle through each of these sections, because they are all different in length, you will never end up reading the same combination of chapters. This means you will often find verses from one section making something more clear from another section – Scripture interpreting Scripture. Even though the Bible has been written over a period of some 1500 years, because God is the author and he inspired the authors of individual books, we shouldn't be surprised at how many times we will find Scriptures tying together and shedding more light on other scriptures as we read.
Okay. So here's a challenge:
Try out this system for 30 days and see how you go.
Isn't that a lot of reading? Well, yes. But in the Professor Grant Horner Bible reading plan, the idea is just to read and not do any in-depth studies as you read. I find that I can read the ten chapters in 30-40 minutes (sometimes it will be a little longer if the day's reading includes one or more really long chapters). Even without doing an "in-depth" study, you will find that you will be getting a good idea of the big picture of the Bible.
Don't stress out if you miss a day or you don't read all 10 chapters in a day. Just pick up again the next day from where you left off. You'll still have your bookmarks in place 🙂
Remember that your goal should not be to "get through" your reading, but to learn and to know God more. And we are not just filling our heads with knowledge, because as we grow in our knowledge of the Lord, his word transforms us.
But we all, with unveiled face seeing the glory of the Lord as in a mirror, are transformed into the same image from glory to glory, even as from the Lord, the Spirit. 2 Corinthians 3:18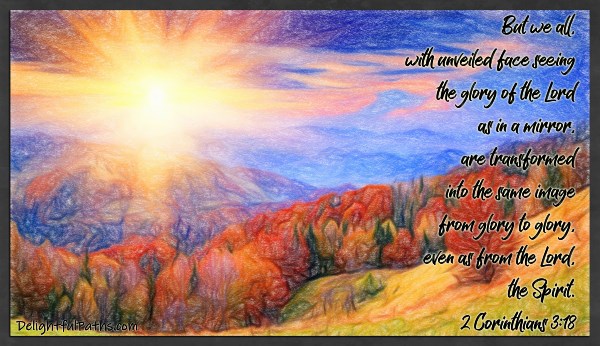 Here are a few variations you could try
If you think that reading ten chapters a day is too much:
Maybe try reading only five chapters a day. Read sections 1-5 on one day, then alternate on the next day and read sections 6-10.
Read nine chapters per day: read sections 1-6 and 8-9 and alternate between Proverbs and Acts. You could either read the whole book then switch to the other or switch between books every second day.
You may find that it is easier to read, say, five chapters in the morning and five chapters in the evening.
At the moment, I am doing a modified Horner Bible reading plan – I have cut back to eight chapters a day – I have incorporated #10 (Acts) in with #1 (the gospels) and #7 (Proverbs) in with #5 (wisdom literature) because I have a new(ish) Bible and I take a bit of extra time in color coding the Bible – one or two chapters a day.
If you want to challenge yourself even more:
If your goal is to read the Bible in six months, you could read twelve chapters a day, doubling up on the Old Testament history and the prophets sections. You will also need to read a few extra chapters in the Law section to achieve this goal.
Keep a Bible study journal to record all the treasures you are learning 🙂
Free Printable Bookmarks for the Professor Grant Horner Bible Reading System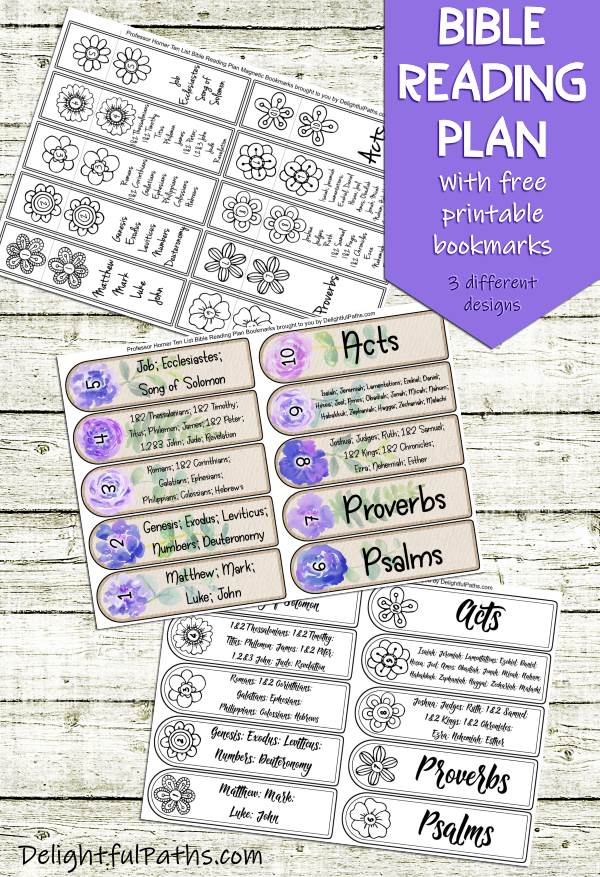 To help you keep track of where you're up to in each section, I've designed four sets of printable bookmarks to use in your Bible – three sets of coloring bookmarks and one with purple and pink watercolor flowers.
Print them out on card so they will be more durable. With the black and white ones, you can choose to color them or just leave them as they are. The top set in the picture above is designed to include magnets so the bookmark can snap shut and stay in place. This is the set that I use. I clip them over the side of the page to mark the chapter I'm up to. This is helpful especially when there is more than one chapter on that page. You may be able to skip incorporating a magnet and just fold them over the page. (Let me know in the comments below how this goes if you decide to try this.)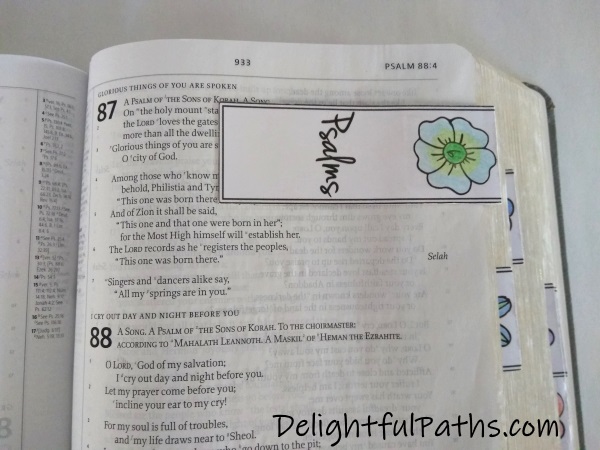 The paper in my Bible is quite thin, so I find it better not to have the bookmarks sticking out too much, putting pressure on the pages.
Because these bookmarks are printable, when they wear out (as they inevitably will!), you can just print them out again. Easy!
I've now added a fourth version of printable bookmarks – some plain bookmarks for my readers who are not as fond of the pretty flowers 🙂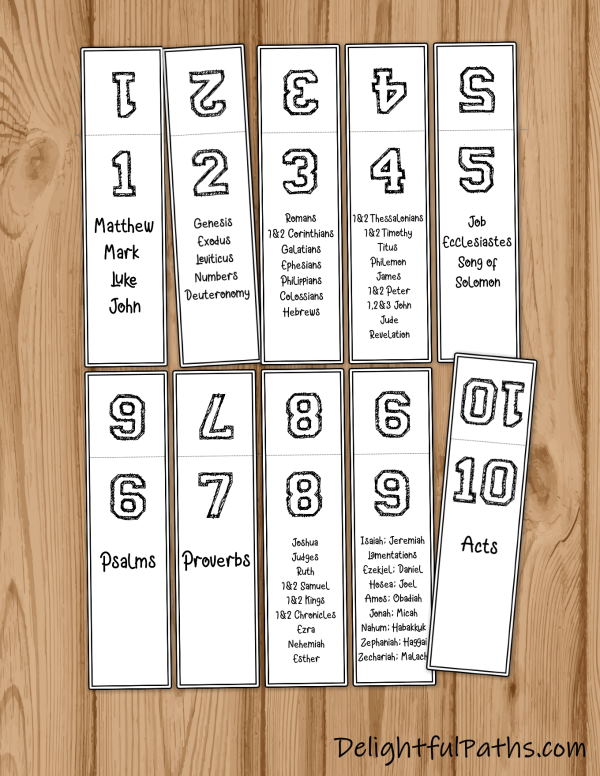 Get my free Bible reading plan printable bookmarks:
Subscribe (free!) to get access to the printable bookmarks (as well as my whole resource library with all my coloring crafts and printables!) Once subscribed, I will send you a semi-regular newsletter with details about my new free files, occasional offers, and other things you may be interested in.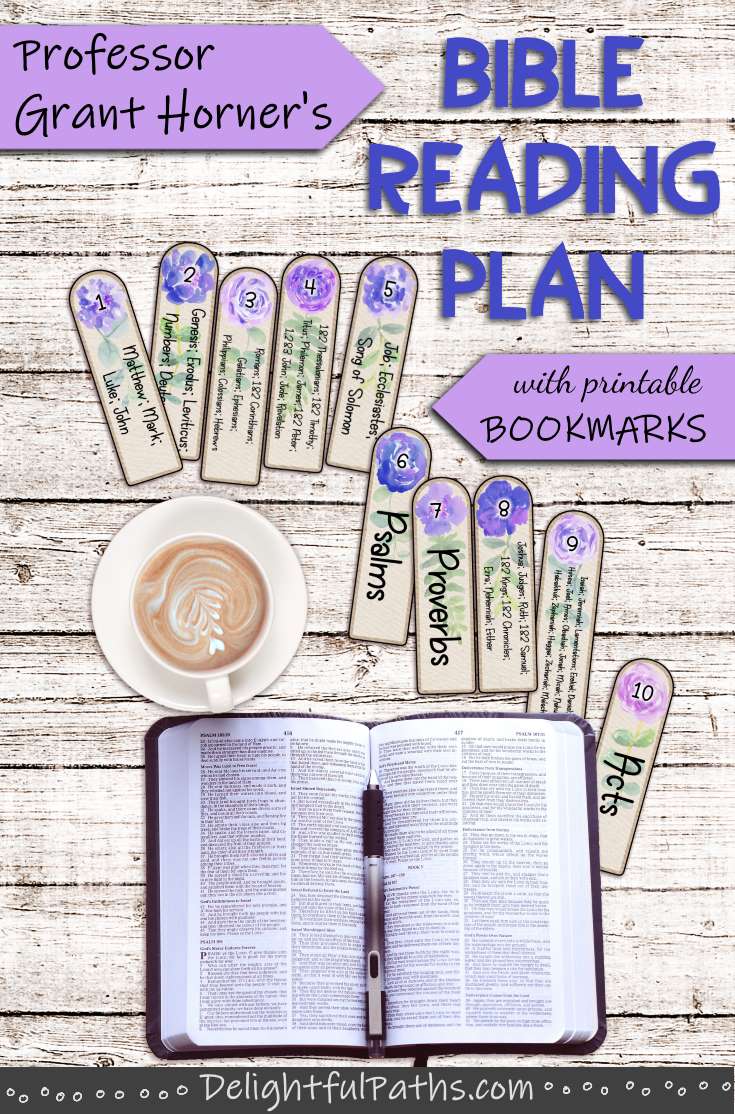 If you have enjoyed reading this post, could you do me a favor? Please post a comment and let me know what you think. Please also share this blog with your social network. I appreciate it!