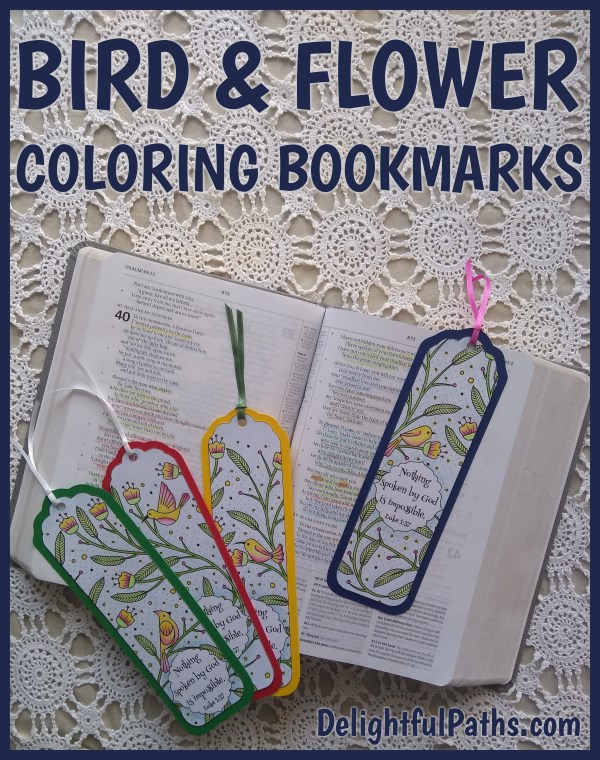 Do you need some quick little gifts which will be useful as well as pretty? These sweet bird and flower coloring bookmarks are really fast to make and are easy to slip into an envelope or in a parcel with another gift, like a book. The coloring page for these bookmarks is available in my free resource library. (Library access instructions are at the bottom of this post.)
And what could be prettier than flowers and sweet little birds, right?
I created these coloring bookmarks just before Christmas for the ESL (English as a second language) class where I help out. We read the Christmas story from the gospel of Luke and gave the students the uncolored versions and let them color the bookmarks in with the pencils we brought along.
The Bible verse on these bookmarks comes from Luke 1:37 –
Nothing spoken by God is impossible.
These bookmarks make perfect Christmas gifts because the featured verse comes from the Christmas story in Luke. This part of the story is where the angel, Gabriel tells Mary that her relative, Elizabeth is now pregnant. This is a miracle because Elizabeth was old and had never had children. But God had promised  Elizabeth's husband that he would have a son, and God was faithful to fulfill the promise – nothing spoken by God is impossible!
I think these bookmarks are also suitable to give at any other time of the year too because it's always good to be reminded that our God is all-powerful and he is faithful. Make some to give away and keep one or more for yourself!
Materials for the bird and flower coloring bookmarks (Luke 1:37):
Luk 1:37 bird and flower bookmarks coloring page (available in my free resource library — get the password for free by filling out the form at the bottom of this post)
cardstock for printing the page (preferably white or cream)
pencils, pens or markers for coloring
scissors
small, round hole punch
ribbon or string
cardstock for mounting the bookmarks onto (optional)
double sided tape or glue (optional)

How to make your adult coloring Luk 1:37 bookmarks:
Download and print out the coloring bookmarks on white or cream card.
Color the bookmarks in your choice of colors.
Cut out the bookmarks.
Optional: Stick the bookmark onto a piece of colored card with double sided tape or glue so that the color shows around the edges.
Optional: Cut out by eye, leaving about a 1/4 inch (about 6mm) border all the way round.
Punch a hole in the top of each bookmark.
Thread ribbon or string through the hole.
Get my free coloring page for the bird and flower coloring bookmarks:
Subscribe (free!) to get access to the bookmarks coloring page (as well as my whole resource library with all my coloring crafts and printables!) Once subscribed, I will send you a semi-regular newsletter with details about my new free files, occasional offers, and other things you may be interested in.
Save the bird and flower bookmarks to your favorite Pinterest board