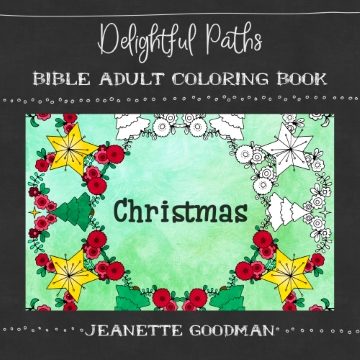 Available in:

paperback, digital pdf
Buy paperback from Amazon
Buy digital pdf from Etsy
This coloring book for adults will allow you to put Christ back into Christmas.
Get into a festive mood and focus on the true meaning of Christmas as you color Bible verses featuring prophecies of Jesus' birth, the account of the birth of Christ, the shepherds and the magi. There are also verses to remind us of the purpose of His first advent and Scriptures encouraging us to thank God for His most wonderful gift.
As a special bonus this book also contains a link for you to download an addition bundle of coloring crafts especially for Christmas. In this bonus bundle you will get some great cards to give someone special at Christmas. You can color the cards yourself which would make unique gift which will be loved even more because you made it yourself. Alternatively you could give uncolored cards for the recipient to color if that is something they would enjoy. There are also a collection of printable gift tags featuring Bible verse snippets. In addition you can make up a gift bag, box or petal card for some special gift giving. The set of four printable bookmarks would make a lovely stocking stuffer.
Disclosure of Material Connection: Some of the links on this page are "affiliate links." This means if you click on the link and purchase the item, I will receive an affiliate commission. I am disclosing this in accordance with the Federal Trade Commission's 16 CFR, Part 255: "Guides Concerning the Use of Endorsements and Testimonials in Advertising."
This Christmas Adult Coloring Book Contains:
30 designs printed on one side of the page only
a link for a free PDF download available featuring printable Christmas coloring crafts

7 greeting card fronts / card toppers which you can use on greeting cards but also on gift bags, journal covers etc
1 gift bag
1 gift box
1 petal card which folds up to hold a gift card or cash or another small gift
2 different Christmas decorations
4 bookmarks
3 pages of different Christmas gift tags (22 in total)
Colored Pages from the Christmas Coloring Book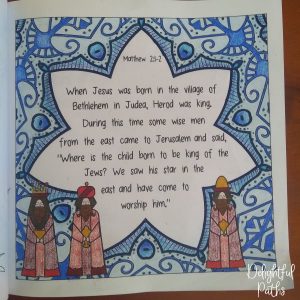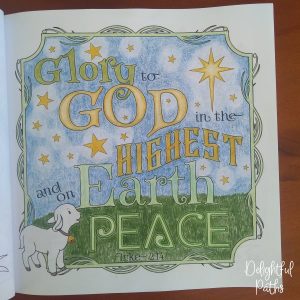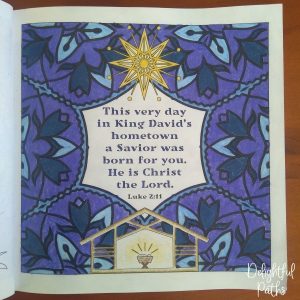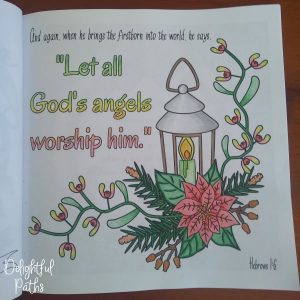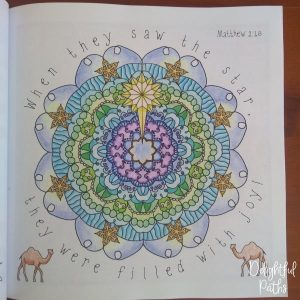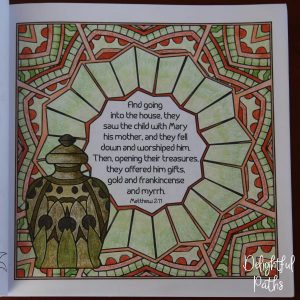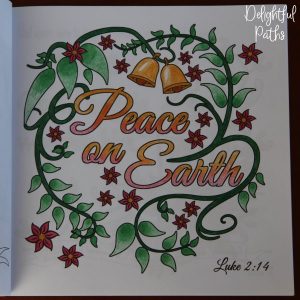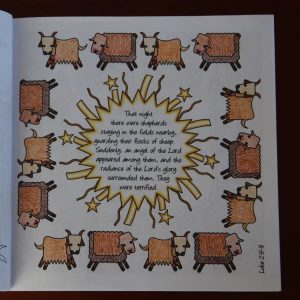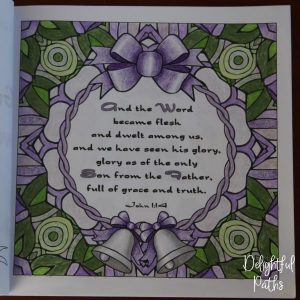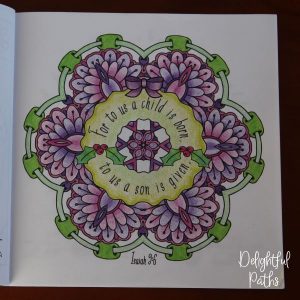 Bible Verses Featured in this Coloring Book:
Isaiah 7:14, Isaiah 9:6, Isaiah 9:6, Micah 5:2, John 1:9, Luke 1:30-31, Luke 1:35, Luke 1:37, Matthew 1:21, Galatians 4:4-5, Philippians 2:5, Luke 2:7, Luke 2:8, Luke 2:10, Luke 2:11, Luke 2:12, Luke 2:14, Luke 2:14, Hebrews 1:16, John 1:14, 1 Timothy 1:15, Matthew 2:1, Matthew 2:9, Matthew 2:10, Matthew 2:11, Luke 19:10, John 12:46, Psalm 107:1, John 1:16, 2 Corinthians 9:15.
Free Sample Pages from the Christmas Coloring Book for Adults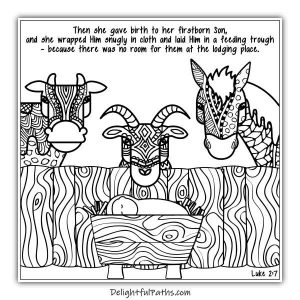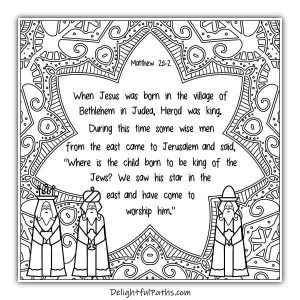 Download these two free pages from the Christmas adult coloring book by filling in the form below. I will then send you the password so you can access my resource library which contains lots of other lovely freebies. You will also be subscribed to my free newsletter. You can unsubscribe any time you like.